Article coverage from Idaho Mountain Express – January 15, 2020.
Fourth and Main development would span most of block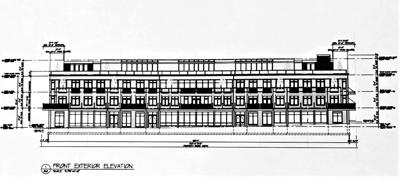 A grassy hill in downtown Ketchum known as "Hot Dog Hill" for accommodating Irving's Red-Hots hot dog stand is expected to gain more than 59,000 square feet of retail and residential space.
On Monday, Salt Lake City-based developer Solstice Homes received unanimous preliminary design-review approval from the Planning and Zoning Commission for its proposed Fourth and Main development. The southwestern quarter of the block bounded by Fourth and Main streets—until now, a popular summer spot for parade-watching and picnics—is expected to be acquired by Solstice Homes, with transfer of ownership still pending.
According to real estate agent Jay Emmer, Solstice Homes entered into a contract with an undisclosed owner in late October through Sun Valley Sotheby's International Realty. A sign on the hill states "for sale" at $2.42 million and "under contract."
On Monday night, Solstice Homes representative Chris Ensign told P&Z commissioners that his company's proposed 59,130-square-foot Main and Fourth complex could help vitalize Ketchum's downtown core by promoting walkability and socialization. The building's residential component would cater mainly to single and older adults looking to downsize, Ensign said.
"We typically sell residences to people for whom stairs and general maintenance have become a problem. Fifty percent of my buyers have been single and over 50—this [design] just fits that lifestyle," he said. "These people want to downsize while staying in their communities."
On the ground level, the complex would feature at least 10,000 square feet of retail space fronting Main Street and a 16-spot underground parking garage with access from Fifth Street. The building's three upper floors, according to preliminary architectural renderings from Connecticut-based PH Architects, would house six deed-restricted units at around 800 square feet each, 10 1,800- to 2,480-square-foot market-rate condominiums with private balconies and two three-bedroom penthouse condominiums with rooftop access.
The building design would also hearken back to Ketchum's mining days, Ensign said.
"Our hope is that what we've come up with initially is something that pays homage to the mining heritage of Ketchum. We went for more of an industrial mill style with a few modern elements," he said.
Two P&Z commissioners present on Monday said they found the building aesthetically pleasing but not completely in line with Ketchum's character.
"Main Street is what really characterizes Ketchum. People appreciate that it's still old-Western [style], with a lot of idiosyncrasies and personality," Commissioner Jennifer Cosgrove said. "This is a beautiful design and a good first step, but it's very monolithic—it's just huge—and it would make more sense in a small downtown city area. Contextually, it's not quite there yet."
Commissioner Kurt Eggers agreed.
"Subjectively, I appreciate the design. It's good stuff. I'm a bit leery of the full block being pretty much the same, though," he said.
Some ideas presented by commissioners to break up the building's massing included adding a central-level atrium or dividing the complex to resemble three main buildings. P&Z Chairman Neil Morrow, however, said he appreciated how the development fully used the site.
Morrow also recommended increasing underground parking spots.
"The more parking, the better. If you could get even four more spaces in the garage, unit sales could benefit in the long run," he said.
According to its website, Solstice Homes has built developments in St. George, Holladay and other cities across Utah.
Preliminary design-review approval essentially gives the developers a green light to bring the plans forward for full consideration by the P&Z.